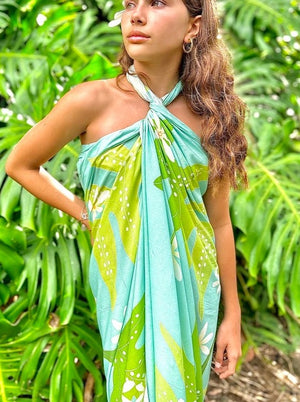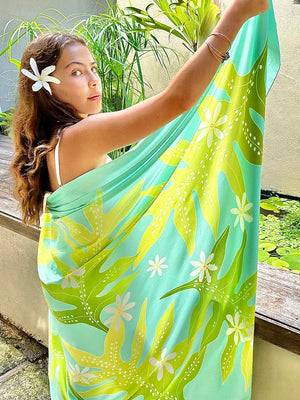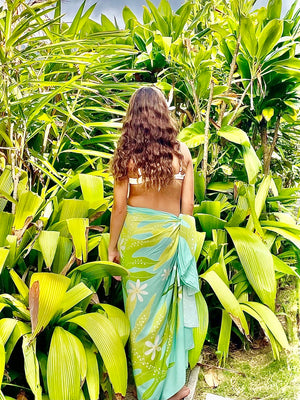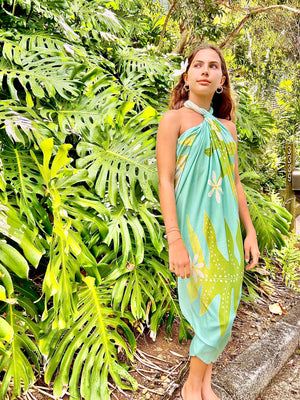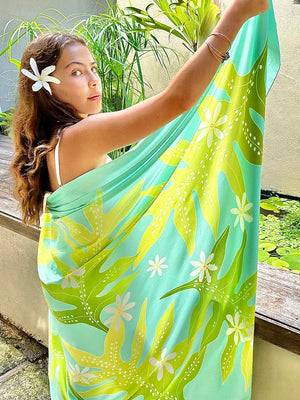 ~NEW ARRIVAL~ ECO PAREO - TIARE LAWAE Green Mist - FULL SIZE
The TIARE LAWAE, the fragrant Tiare flowers and Lawae, the native Hawai'ian Fern in Green Mist pareo is amazingly comfortable to wear, and handy to bring it to the beach! The luxuriously wide, our new full size eco pareo can be worn in the different Polynesian style dresses, as a beach coverup, a towel, a summer blanket and a shawl etc whatever the way you like to enjoy it!
SUSTAINABILITY : This new eco pareo is made of fast growing acacia trees and not from aged trees from the ancient forests. Our pareo bags and paper stickers are 100% made of plants and biodegradable. The new pareo labels are made of 100% organic cotton that keeps the micro eco systems in the soil alive in the cotton fields (vs. non-organic cotton is grown with tons of synthetic fertilizers and chemicals that kill good micro eco systems in the soil and the runoffs pollute the environment severely) .
Our pareos are printed with inks that are certified by OEKO-TEX STANDARD 100, and the eco-reactive digital printing uses 1/10th of the water consumption in the pareo production compared to the conventional textile printing process and 
the conventional Hand-painted pareo/ sarong production that c
reates
 severe water contamination by the runoffs of the chemical paint 
dyes and finishing agents from the factories to the rivers to the ocean,
 it severely deteriorates ocean's eco system that is vital to the green and blue earth.